The APM Communications Management course teaches you how to manage internal and external communications during your project – an essential part of project management. This online training course meets the specifications for project communications management as defined by The Association for Project Management (APM Body of Knowledge V6).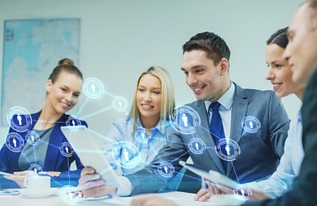 The 110 minute course uses an interactive case study in addition to detailed illustrated content. It is an engaging and extremely well-made course.
Course Structure:
• Stakeholder Management
• Project Controls & Communication
• Communication Management
• The Communications Plan
• Communication & Change Control
• Knowledge Management
• Communities of Practice (CoP)
• Project, Programme & Portfolio distinctions (P3)
Who is it aimed at?
The APM Communications Management course is aimed at those who manage or work with projects and project teams. Communication is a key issues when carrying out and managing project, and so this course is important for those involved in project, programme or portfolio management.
Benefits
By completing this course you will become a better project manager by learning how to proactively use communication to achieve success in your project.
The module also provides the communications management content required for those working towards a professional qualification.
2 Project Management Institute PDU Points
2 Association for Project Management CPD Points
This course costs £72
Buy the Communications Management course