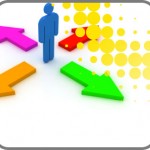 In this e-learning course you will learn how to develop business ideas, products and services that reduce our carbon emissions.
The need to reduce our carbon emissions is now commonly accepted around the globe and scientists are telling us that it is the key thing we must do to limit the negative impacts of climate change.
Carbon dioxide concentrations have increased by 40% since pre-industrial times and each of the last three decades has been successively warmer at the Earth's surface than any preceding decade since 1850. In addition, global mean sea levels rose by 19 cm over the last century and ice sheets and glaciers have shrunk.
The continuation of these trends will have enormous social and economic impacts on millions of people around the world. Realising this, governments around the world are pushing hard for changes to reduce carbon emissions, supported by businesses and consumers.
The challenge for business is to help people to continue improving their current lifestyles whilst reducing carbon emissions. The business opportunities are massive as the change to a greener economy takes place.
We've designed this course to help green entrepreneurs identify new solutions to meet the demands created by the climate change challenges. In this course we look at how your business enterprise can help reduce carbon emissions and protect our planet for future generations.
Our view.…simple but hugely informative e-learning materials, supporting you to learn.
Buy the Green Business Carbon Emissions Course
This course costs £69.00 and is available for 90 days from purchase