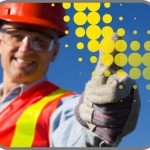 The term 'Personal Protective Equipment' covers all equipment which is intended to be worn or held by a person at work and which protects them against risks to their health and safety.
If a hazard cannot be eliminated or avoided, then PPE is your last line of defence against potential harm.
Regulations state that your employer must provide appropriate PPE, and training on how to use it safely.
This course helps to provide that training, we take you through the various types of PPE available, learn how to choose the correct protection, how to look after your PPE and check it for faults and highlight individual responsibilities within the workplace.
Approximate duration: 20 minutes.
This is a course from Oilennium which costs £35.
It's not available for immediate purchase, but you can easily contact us and we will promptly make it available for you to use on a Learning Management System.
For individual purchases, there is a £15 set-up fee. If you would like to buy this course for use on your LMS there is no set-up fee provided that you buy 10 or more licenses.
For an enterprise license please contact us and there will be no set-up fee.