Here we look at some of the best cyber security courses created by leading e-learning companies in the UK. We include examples of off-the-shelf online training, innovative e-learning games, and bespoke content development for a range of sectors and business needs.
Cyber Crime Time – Training Game from imc
imc Learning have managed to make cyber security training fun with an engaging online game. Cyber Crime Time puts you in the role of a hacker!
Learn about common cyber attack techniques by acting as the criminal. Your goal is to gain unauthorised entry into an organisation by plotting and committing a number of cyber crimes, including Phishing, Vishing, spotting information security flaws, installing malware and more.
You will of course, learn how to prevent cyber crime too, with various hints, tips and insights along the way. This engaging cyber security e-learning is highly innovative and a lot of fun, but the training is seriously effective.
It is free to play for individuals, while business licences are extremely low cost per user, offering excellent value. 
Try out this excellent cyber security training game over on the imc website.
Bespoke Cyber Security Training – Walkgrove
Walkgrove created a bespoke data security training course for M&W, targeted at employees working in the high-tech engineering and construction sector.
The M+W Group is global leader in design, engineering and construction across the fields of life sciences and chemicals, energy and environmental technologies, high-tech facilities and major complex projects.
M+W UK covers much of Europe, including the UK & Ireland, Scandinavia and Belgium. The Group commissioned Walkgrove to produce relevant cyber security e-learning for its multinational team of approximately 800 staff.
They chose Walkgrove because of the company's 25+ years of experience creating angaging e-learning content across most sectors, including dynamic and challenging working environments.
Address:
7 Maisies Way
Alfreton
Derbyshire
DE55 2DS
Tel: +44 (0)1773 864640
Read more about this case study on information security training for M&W on the Walkgrove website.
Future Learn Cyber Security Course
Learn the essentials of cyber security and build your skills to better protect your digital information from security threats with this online cyber security course from The Open University.
Modern life depends on online services, so having a better understanding of cyber security threats is vital. On this eight-week course from The Open University and guided by Cory Doctorow, learners are guided in how to recognise online security threats that could harm you, and can explore the steps you can take to minimise your risk.
Learn more about the introduction to cyber security course from Future Learn.
Low Cost Cyber Security Course – Virtual College
Learn to protect yourself or your business online with this cyber security training course from Virtual College.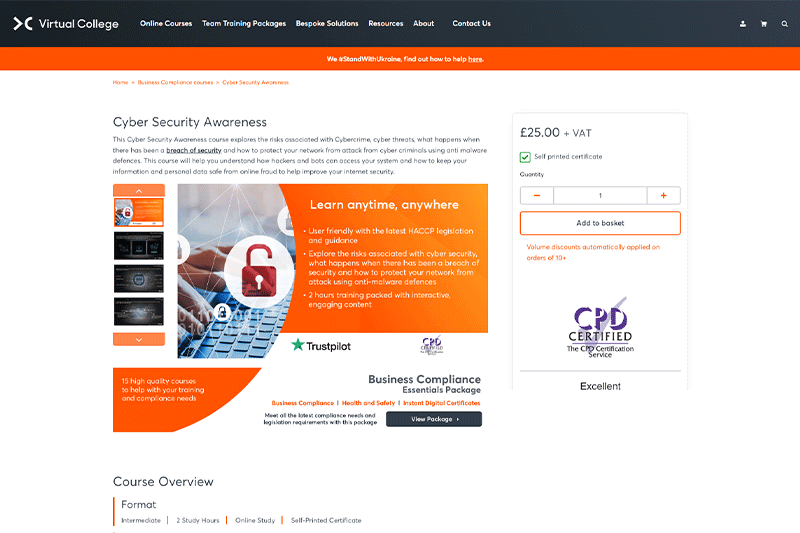 The Cyber Security Awareness course is a beginner's guide to protect you or your employees from the risk that cyber criminals pose. This eLearning course will help learners understand how hackers and bots can access your system and how to keep your information and personal data safe from online fraud.
Address:
Marsel House
Ilkley
West Yorkshire
LS29 8DD
Tel: 01943 889480
Visit the Cyber security e-learning course from Virtual College.
MSc in Cyber Security – University of Hertfordshire
Find out more about the MSc Cyber Security (Online) course within the School of Physics, Engineering and Computer Science at the University of Hertfordshire.
Their Cyber security Centre has developed strong relationship with the industry, and this experience is mirrored in the course provision, teaching the most current and relevant strategies, methods, tactics, and technologies used in the industry.
Address:
Hatfield
Hertfordshire
AL10 9AB
UK
Tel: +44 (0)1707 284000
This Postgraduate Masters Degree in Cyber Security is available to study online.
Certified Training – e-Careers
Learn essential cyber security skills and become a comprehensive certified professional in IT industry with e-Careers
Cyber security, also known as IT security, aims to reduce the risk of computer systems and networks being affected by theft, disruption or damage. In a recent survey, nearly 50% of UK firms said they'd been hit by a cyber breach or attack in the past year.
Address:
Unit 6, Waterside Drive
Langley
SL3 6EZ
United Kingdom
Tel: +44 (0) 20 3198 7706
www.e-careers.com/courses/cyber-security
Information Security Best Practice – IT Governance
Ensure your staff are aware of the most important elements of information security and cyber security and familiarise them with best practise with this e-learning course.
This cyber security awareness-certified training in association with the National Cyber Security Centre will help you mitigate the risk of a breach or incident and embed a culture of cyber security. Educate employees on their responsibilities so that best-practice security techniques become second nature.
Address:
Unit 3, Clive Court
Bartholomew's Walk
Cambridgeshire Business Park
Ely, CB7 4EA
UK
Tel: +44 (0)333 800 7000
Learn more about this Cyber Security awareness e-learning on the IT Governance website.
If you're looking for the best cyber security e-learning from off the shelf or custom course providers, then one of the companies above should be well-placed to cater for your needs.