Sales & Communication Courses
Here we signpost some of the best online sales and communication courses, which include interactive training in customer service, selling / account management, and interpersonal skills for business – all delivered via e-learning.
Many mistakenly believe that you are a born seller or you're not. In fact, the best sales people take their craft seriously, practise proven techniques and learn from those with more experience. Many benefit from online sales training to gain an edge.
Similarly, customer service training and building effective internal or external business relationships can help take a professional from good to great. We've curated a wide range of sales e-learning and online communication training courses to help your career or develop your staff.
Good negotiation aimed at win-win relationships results in more benefits for both sides. The process is fun once you get the hang of it!
Training that looks at the causes of anger, and strategies to control it when things get tense at work.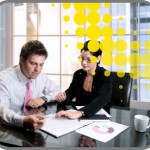 Connect your products and services to customer needs. Learn powerful skills to show customers how they can best use your products.
Learn about productive communication throughout an organisation. Useful for both your professional and personal life.
How we record complaints and compliments, processes to follow, and how businesses can learn from them.
Text-based and video e-learning content to help you make compelling presentations in business, and reap the benefits.