If you're interested in the landscape and expectations of mobile learning in 2023 and how to implement it effectively, here's our complete guide to mLearning today. We include a recap of what mobile elearning means, and the latest content design and strategy best practices for ensuring good UI / UX and good results.
Mobile Friendly e-Learning is a Given – Isn't It?
It's a given that any new e-learning in 2023 needs to be responsive and mobile friendly, as content tends to be accessed from a wide range of devices – desktop computers at the office, laptops or tablets at home or on the go using a smartphone.
However, it's still very common for e-learning development to focus on the desktop device used by the content developer and for the mobile experience to be a box-ticking exercises at the end of the process, just to check that the content can physically be accessed on other devices.
Depending on the needs and behaviour of your learners, this could be a big mistake, especially if they are most likely to access the content on a smartphone:
Source: StatCounter Global Stats – Platform Comparison Market Share
As you can see can see from the chart above from Statcounter, mobile browsing averages at 55% vs 43% for desktop internet usage, and 2% for tablet. Numerous other studies paint a similar picture.
There is certainly still a time and a place for traditional, classroom-based learning, especially where lively, face to face debate needs to be governed or where manual skills are developed.
Lengthier training courses that require periods of study and concentration may best suit a desktop experience, especially if the learner is working with the content for over around 30 minutes.
Blended learning is often used to combine the best of these two training methods.
However, easy to use, bite-sized training modules and 'Just in Time Learning' can be invaluable in dynamic working environments, such as last-minute prep for a business meeting or dealing with a complex engineering challenge. This kind of content might work best if it has been developed primarily with a mobile user interface (UI) to make it fast and easy to access and consume on a phone or tablet.
A good, mobile-first learning user experience (UX) can make this possible and can be the best way to absorb facts and figures or take new knowledge into a workplace environment straight away.
What is mLearning?
Our definition of mLearning is the use of mobile technology to make learning materials accessible and effective at a time and place convenient to the learner.
Exactly what means has been widely debated for over a decade, with many arguing that mobile learning is completely distinct from e-Learning. We need to remember that the 'e' in e-Learning is for 'electronic'. Therefore, can we justify the statement that the difference between mlearning and elearning is as stark as the difference between elearning and face to face, instructor-led learning?
A simple way to define mobile learning could be to say that it is learning at a time and place that is convenient for and accessible to the learner. That would make mobility the key element, rather than the device used, so a book could deliver mobile learning.
However, if we're looking at 'Just in Time Learning', is that book always there? What is in every pocket is a mobile phone – at least for the majority of us.
e-Learning has taken education and training into the world of computing. mLearning has taken it a stage further, increasing the portability of e-learning. As discussed on this article from way back in 2010 –  m-learning is not just e-learning on a mobile phone and that's an important point to remember.
Expert Help – Mobile e-Learning Developers
Many organisations have in-house staff with skills in training course creation, or even e-learning content development. However, not many have experts to hand for creating mobile learning content and systems to make training as effective as possible across multiple devices.
Here we list some of the best mobile e-learning developers in the UK for creating impactful, easy to use training content:
Day One Technologies
Established over 20 years ago, Day One is one of the leading UK providers of true-to-life simulations and scenario-based training content to make learning faster and more effective. They have created impactful e-learning solutions for an impressive list of clients, including Lloyds Bank, NHS Scotland / Scottish Government, Co-op and many more.
Learn more about e-learning content development from Day One on their website.
LEO Learning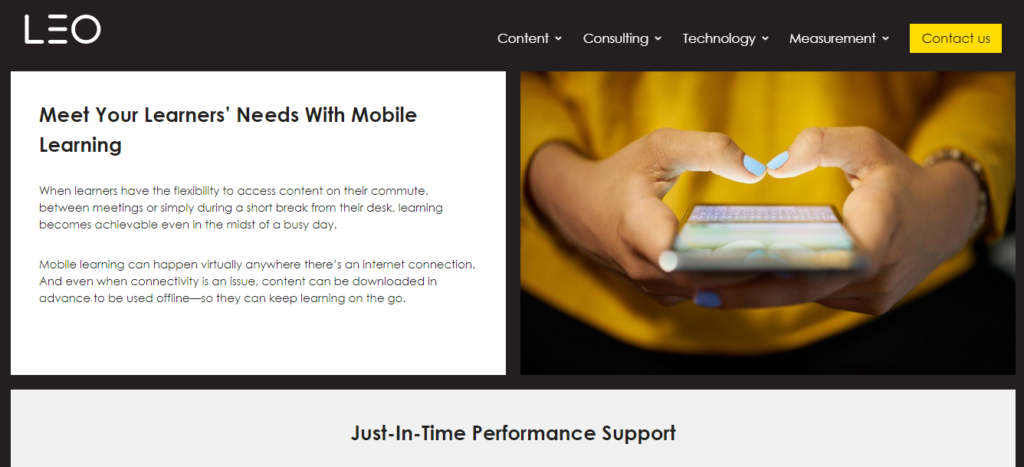 Multi-award winning provider of e-learning and mlearning solutions that incorporate the latest technologies, such as AR and gamification. Their client list includes the likes of Honda, LOMA and Intercontinental Hotels Group.
Visit the Mobile Learning page of LEO.
Kineo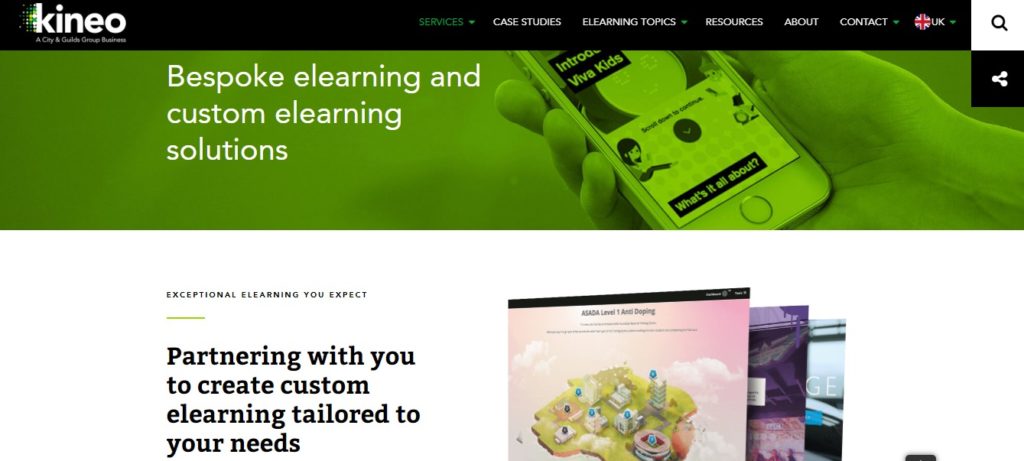 This global e-learning company have created dynamic, custom solutions for the likes of Rolls Royce, Inland Revenue and M&S.
Visit the Kineo custom elearning solutions page.
Mobile Learning Technologies
When discussing mobile learning technology, we tend to think of a screen, so the portable devices considered are usually smartphone, tablet computers and to a lesser extent, laptop computers or notebooks. However, audio-only devices are a very important consideration, so MP3 players, iPods etc, car stereos (think Zig Ziglar's automobile university) and the mobile phone as an audio device all enable learning on the go.
Mobile learning technologies are any devices that increase the accessibility of learning materials in a manner that's effective.
For HR or learning and development professionals, mobile learning technology will be seen as a platform such as a learning management system (LMS), learning experience platform (LXP) or an elearning app. The latest systems will be mobile friendly by default, in that they will work well on any device. However, how well considered they are for the unique requirements and mindsets of mobile users will still vary considerably.
You can read about Learning Light's help choosing an LMS here or call our experts on +44 (0)114 307 2358 for an informal discussion of your needs.
Uses of Mobile Learning for Business
Nowhere does mlearning have greater impact than in the life or death environments of defence and the work of central intelligence agencies. Military personnel can gain up to date, even live, information on their current environment and recommended actions.
The falling costs and increasing portability of learning materials has led to military organisations being considerable investors in mlearning.
There are other sectors where frequently-changing circumstances make mobile learning highly preferable to more rigid, traditional training methods. Retail is such a field, as product ranges often change and up to date product knowledge is more about remembering facts and figures, rather than skills development. A classroom environment with your peers could be distracting, while learning when and where staff can concentrate could make elearning more effective for retailers who need to share new knowledge fast. Just in Time learning is one of the main benefits of mlearning.
Furthermore, as retail staff are often relatively young, they are likely to not just be comfortable in learning on a mobile device but be much more at home on one. A related fact with a younger workforce is higher staff turnover, so adopting elearning and mlearning as opposed to face to face, instructor led training that requires the hire of expensive facilities and trainers can be desirable as a cost-saving measure.
mLearning in the School Classroom
Mobile learning is often discussed in the context of being an alternative to the classroom, but many believe that it can actually supplement and enhance education and training in the classroom.
The traditional classroom has many restrictions – there is a finite amount of textbooks that students can carry and that teachers can refer to. The teacher of instructor can use multimedia materials, such as video and blackboard or slideshow presentation, but these are left in the classroom. The student may be able to use a computer, but the device would be left there even if something similar is available at home, it may be different.
Benefits of elearning and mobile learning for the classroom
Using mobile learning in the classroom can help with continuity when continuing learning elsewhere. Classroom education and training can evolve with access to endless additional materials on the fly. An instructor can signpost materials that the device makes more accessible to an individual due to customisation.
Screen readers for example can convert any text to audio or change the size and contrast. Using the mobile device as a launchpad, an individual student can go from the starting point created by the teacher or instructor and further their learning using media that they enjoy or find more effective, such as YouTube videos or podcasts instead of text.
Peer to peer collaboration can continue beyond the classroom as mobile technologies make social learning possible, and even easy and fun, in a manner with which many learners are already very comfortable. In this way, mlearning can be a very different and sometimes more powerful way, for new ideas to develop and snowball into innovation.
Minding potential issues and disadvantages
It's easy to see mlearning as the holy grail for a richer classroom experience and continued learning elsewhere. However, it's up to teachers and instructors to understand their learners and ensure that the addition of mobile technology does not add distraction or create undue exclusivity and disparity of opportunity to succeed.
Do all your learners have access to materials and collaboration tools of similar quality and connectivity. The digital divide still exists and while mobile phones are virtually ubiquitous, not all devices are created equally. When it comes to school education, not all children have mobile devices or are encouraged to use them without restriction.
It's also up to those who facilitate learning to judge whether or not mobile technology adds great value or creates too much distraction, with unrelated content, chat or games just a click away.
Mobile Learning Strategy
If you want your on-the-go training to be as effective as possible, then it's important to have a good mobile learning strategy from the outset. Here are some fundamentals:
1. Know your learners
Are they comfortable with mobile technologies? Will they be willing and able to use the content? An older workforce may be less happy with the idea and shy away from using it, whereas millenials may spend several hours each day using their phones for social media, and feel more than comfortable using mobile platforms. It's up to learning and development managers to make the call about what's appropriate.
Unsure whether it's right for your learners? Ask them!
2. Ensure accessibility
Do your learners have the devices to do mobile learning content justice? If you are developing an mlearning strategy to train a remote workforce, will they have the connectivity to access the content? These facts should be considered before any elearning is created.
3. Don't reinvent the wheel
Many new projects never get off the ground because people imagine that they will be huge amounts of work. If you already have learning content, then making it mobile friendly may be much easier than you think. The key to effective mobile learning is often to trim it down to bite size chunks that are conducive to accessing and interacting on a mobile device. The phrase 'less is more' really is applicable here. Look at your existing education or training content and ask yourself, "can we re-purpose this?".
4. Engage your audience
The beauty of mlearning is that it can be accessed away from the desk. The disadvantage is that's where other stuff happens – leisure, family-life and where there is connectivity, funny YouTube videos and Facebook chats with friends. With all those potential distractions, it's essential that once your learners access the content, you grab their attention and keep it long enough for effective learning to take place. Make it easy to use and if possible, make it interesting, fun or even both.
5. Incentivise its use
Even with the best intentions at the start, what is going to motivate your learners to access and use mobile learning when they are tired or busy with their other work or day to day leisure or family life? When learning materials are available 24/7, knowing that it is easy to do can also make it easy not to do. "It's there, I'll do it later / tomorrow…". This is where the T comes into creating and communicating SMART goals for learners:
Specific, Measurable, Attainable, Relevant and Timely.
As with any training, there should be tangible reasons to learn.
6. Track performance
Unlike traditional classroom training, elearning, when created well, generates huge amounts of user data. If you are working with SCORM compliant tools to develop your mlearning then you should be able to analyse what content is being accessed, engaged with, and understood. The most popular mobile elearning platforms also offer in-depth data and insights into individual performance and aggregate learner data. If any sections cause learners to exit the platform or fail to progress as well, then you know it needs to be looked at.
Getting learner buy-in, creating mobile learning and rolling it out are just the start of the process. The best mobile learning strategies include plans for analysis and continuous improvement of content and its delivery.
Mobile Learning Design Tips
Obviously if your learners are likely to be on a mobile phone or tablet, then your elearning content needs to be designed very differently than for desktop users. The ideal if often responsive design, where your content automatically adapts to the screen resolution of the user, reorganising or changing layouts entirely on the fly. Here are some mobile learning design tips that might help you meet the needs of your learners, whatever their device:
1. Use Simple Layouts
Generally speaking, the less HTML code you are using, the less likely it is to cause problems. Javascript and other types of code may display poorly on some devices or not at all.
2. Eliminate superfluous text
Even an engaged audience may only read 20 to 30% of the words on a page because they skim-read content. On a large screen, this can be easy, but on a mobile phone say, you need to work by scrolling to skim-read, slowing down the consumption of content, which could frustrate learners.
Look at prioritising must-have content and make nice-to-have information available in a 'Further Reading' section.
3. Reduce File Size
Especially if using a mobile network to access the elearning, smaller file size can lead to noticeably faster load times. Compress images and reduce elements that don't need to be there, as everything within content uses up bandwidth.
4. Prioritise navigation and legibility
Especially when learning on the move, the learners environmental conditions may not be as optimal as at home or in the office, so make your mobile learning design as easy for them as possible. Black text is used on white paper in most books and even the majority of websites. This colour scheme and level of contrast has been shown to be the best for legibility, so it might be good to avoid straying too far from this in your mobile elearning design. A font size of 16 to 18px tends to work well across any device.
Navigation is often what causes most problems for cross-platform content. Avoid huge menus where you need to scroll through loads of items. Ensure the tap points are large enough for those fingers and thumbs that are less than dainty or well coordinated. Favouring text links within content, as opposed to images, can make the user path both easy to see and easy to use. Find more tips on design for mobile on the Articulate Community site.
5. Test diligently across multiple platforms and browsers
It's common to test content on a phone, tablet and desktop PC and assume that that's job done. However, if your content relies on a web browser (vs a mobile learning app), there can be unexpected variations across different browsers on similar devices. Where possible, test at least across the most widely used web browsers and consider using browser emulators if you don't or can't have them installed. Also, bear in mind that there will even be display differences between older and current versions of the same browser! This may seem like a hassle, but it may only take a few extra minutes depending on the length of your content and prevent frustration and complaints from users and many hours of rework down the line.
6. Consider most-common use cases
Survey your teams to understand how and where training will be most commonly accessed. Much e-learning will be accessed primarily on a mobile device and if that's the case for your organisation, you might want to design for mobile first, rather than simply making a desktop-first experience responsive to work OK on a phone.
Benefits of mLearning
As long as you have an internet-ready device and connectivity, the benefits of mlearning are that you can learn anything, anytime and anywhere. If someone has gained and shared knowledge freely online, anybody can find and learn it themselves if they are willing to look for it.
This development has removed many of the cost and location based barriers to learning. Distance learning has for decades enabled people in locations remote from established education and training establishments to learn with those establishments. The mobile learning advantages are in an enhanced ability to access and interact with materials in not only remote locations, but changing locations, creating flexibility at speed.
Naturally, this ability is more valuable for certain sectors, user-types and circumstances.
If you are creating a training programme or e-learning content, then mobile learning delivery should almost always be a key consideration for the user experience of your learners.
Want some help developing a mobile learning strategy or choosing the best platforms or content developers for your needs?
Feel free to Contact Us to discuss your goals.