Here we signpost some of the best e-learning content development companies in the UK, with each offering unique strengths and sector experiences. Whatever your needs for bespoke training content, one of these top providers is sure to do a great job for your project.
Walkgrove
Walkgrove is a leading provider of bespoke e-learning content development services, catering for one minute of microlearning through to 200+ hours of complex training.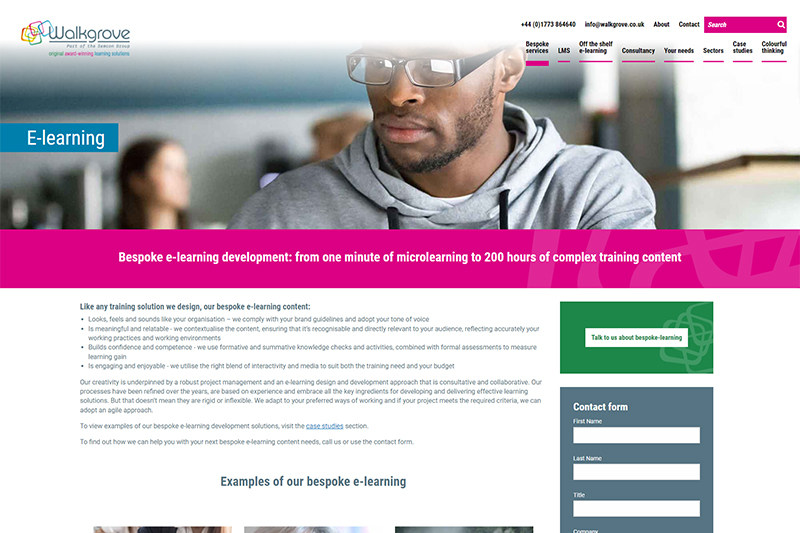 Working with many large UK, European and global organisations since 1994, Walkgrove have won many awards for their excellent work. They offer a full, consultative e-learning development service across the full learning lifecycle from Training Needs Analysis through to ROI and Impact Studies, ensuring that their solutions deliver real, tangible value and business impact.
7 Maisies Way
Alfreton
Derbyshire
DE55 2DS
Tel: +44 (0)1773 864640
Visit the Walkgrove e-learning content page to learn more about their services.
Blend Interactive Content
Blend is a specialist interactive elearning content studio. The company's mission is to create the highest standard of effective interactive content that makes your audience passionate about your learning.
With strong backgrounds in Instructional Design and Visual Design, Tom and Brendan work remotely serving clients across the globe.
More about interactive e-learning content from Blend can be found on their website.
Sponge Learning
Sponge is one of the UK's top providers of bespoke digital learning for global workforces. They design, build and deploy elearning, VR based training, video, animation and more.
Sponge are striving to lead the UK digital learning sector and state the goal of leaving a legacy that their clients value and their people can be proud of.
In the wake of the pandemic and many companies moving to remote work, the digital learning sector is experiencing huge growth. Sponge is one of the most innovative companies in the space. Their team is based across offices in Plymouth, London, Bristol, Edinburgh and Paisley.
London office:
14 Brookes Mews
London
W1K 4DG
UK
Tel: +44 (0)330 390 3920
Find more about bespoke content from Sponge Learning on their site.
Day One Technologies
Day One offer bespoke elearning content development services to help engage your learners and deliver great business results. They are on a mission to work hard in order to make corporate training easy.
Based in Batley near Leeds in West Yorkshire, Day One combine in-depth understanding of learning psychology, training strategy and the latest elearning technologies to create solutions that really work.
They believe that most e-learning is too static or too gimmicky, and concentrate their resources on providing rich but highly practical training content that delivers measurable results.
Day One Technologies Ltd
Unit 55
Batley Business and Technology Centre
Grange Road
Batley
West Yorkshire
WF17 6ER
Tel: +44 1924 510524
Visit Day One for more detail on their bespoke content development services and examples of their work.
Kineo
Kineo is a full-service e-learning that caters for any type of training project, from a single bite-size, bespoke e-learning course to a global workforce training programme.
Kineo work to improve business performance by creating the best in workplace learning experiences.
Sovereign House
Church Street
Brighton, BN1 1SS
Tel: +44 (0) 127 376 4070
Find more about content from Kineo over on their website.

If you are looking for the best e-learning content development companies in the UK, then the providers above should be on your shortlist.