Here we signpost anti-bribery e-learning courses from the best online compliance training providers in the UK.
The Bribery Act 2010 sets out guidance that defines 'improper performance' of a relevant function or activity at work, and could refer to acceptance of financial, position or other incentives.
The law is designed to help established a code of conduct that can be understood in the context of a broad range of organisations, and that can be legally enforced.
The companies below are top providers of online anti-bribery training courses to help both employees and employers stay compliant by establishing relevant policies and working practices.
Eversheds Sutherland
As one of the UK's top 10 law firms, Eversheds Sutherland understand the breadth and scope, as well as the aggressive enforcement, of bribery and corruption laws and how they can pose a risk for businesses in every market.
The legal risks of bribery are significant, as convictions for bribery offenses can result in corporations facing huge fines.
Eversheds Sutherland provides legal advice and solutions to a global client base ranging from small and mid-sized businesses to the largest multinationals.
Their teams of lawyers across the globe operate to deliver the legal know-how and strategic alignment that clients need from their advisors to help further their business interests.
1 Wood Street
London
EC2V 7WS
Tel: +44 20 7919 4500
More about Anti-bribery and corruption training from Eversheds Sutherland.
High Speed Training
This low cost online Anti-Bribery Training course is CPD accredited and developed by financial services professionals.
A certificate is issues on successful completion of this short online course.
High Speed Training collaborate with experts and customers to share best practice and insights through a library of off-the-shelf content.
They are one of the leading online vocational training companies in the UK, and have created and delivered high quality, certified courses to millions of people.
Riverside Business Park
Dansk Way
Ilkley
LS29 8JZ
Tel: 0333 006 7000
https://www.highspeedtraining.co.uk/business-skills/anti-bribery-course.aspx
iHASCO
This CPD accredited Anti-Bribery Training is designed to be used by anyone who could be exposed to bribery or corruption.
iHASCO work to core values of quality, expertise, individual sector knowledge, and excellent customer support, supporting businesses across a wide range of industries.
2 Bracknell Beeches
Old Bracknell Lane West
Bracknell
RG12 7BW
Tel: 01344 867 088
https://www.ihasco.co.uk/courses/detail/anti-bribery-training
DeltaNet
This company provides some of the best online anti-bribery & corruption training courses and modules for UK businesses. DeltaNet are specialists in anti-bribery and corruption e-learning.
es

Ths company continually invests product development and aims to create solutions that reflect the latest in modern trends and learning styles.
They work with advanced instructional techniques that include interactive video and gamification to create engaging and enjoyable learning experiences.
Loughborough
LE11 3GE
Tel: +44 (0)1509 611 019
https://www.delta-net.com/compliance/anti-bribery-corruption
Thomson Reuters Legal
This US-based company offers training for familiarising employees with the laws that criminalise corruption and bribery, and help them recognise and mitigate associated risks.
The course is available in 9 versions, which are each adapted for various regional laws and jurisdictions.
For well over a century, this organisation has been an integral part of the US legal system and has given customers a powerful competitive advantage by providing high quality legal, business and regulatory information.
610 Opperman Drive
Eagan
MN 55123
USA
Tel: 1-651-687-7000
More about Global anti-corruption and bribery training from Thomson Reuters Legal.
VinciWorks
These online anti bribery and corruption courses that are designed to teach employees about common issues relating to bribery and corruption, which many national and international companies can face.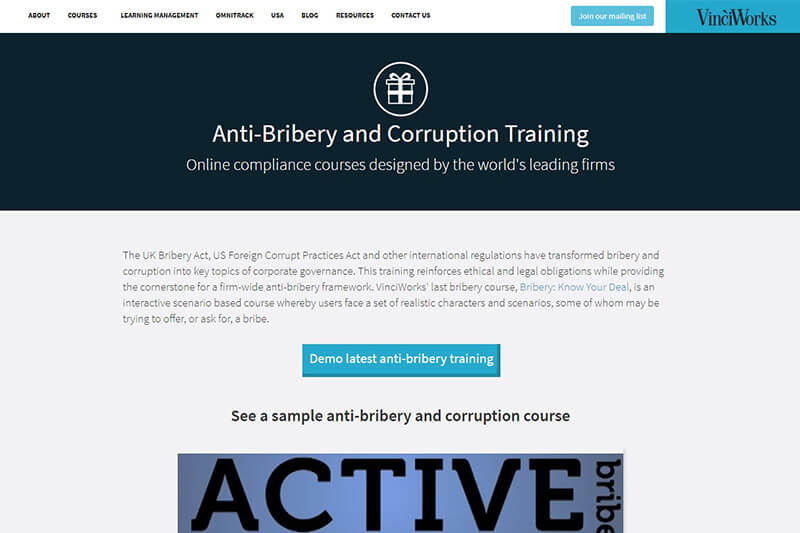 Founded in 2004, VinciWorks is a leading provider of online compliance training and risk management software. With over 250,000 users across 70 countries, VinciWorks has established itself as a leading developer and distributor of online compliance courses.
Elsley Court
20-22 Great Titchfield Street
London
W1W 8BE
Tel: 020 8815 9308
https://vinciworks.com/courses/anti_bribery_and_corruption

If you are looking for the best anti-bribery e-learning courses in the UK, then one of the above providers should meet the requirements of your company.