Online Training Courses & Advice
Here at e-Learning Centre, we guide you to the best in online education and training. We signpost great e-learning courses and companies, and offer expert research and advice.
Browse Course Index
Online asbestos awareness training & certification – IOSH approved.
Cost: £30
Over 50 modules on essential Excel topics, with a blend of video tuition and coursework.
Cost: £50
Interactive course on risk management, health and safety policies, legislation and recording.
Cost: £25
Develop in-demand business skills in estimation, variance, averages and more.
Cost: £48
Video based training in COSHH – Control of Substances Hazardous to Health.
Cost: £25
A series of videos, offering some of the best training in business communication skills.
Cost: £150
A manual handling training course for safe working practices. ROSPA approved.
Cost: £25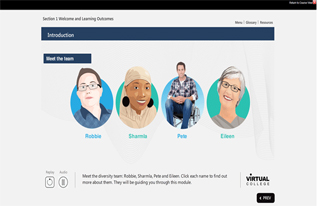 Gain more understanding of diversity and how to promote it, as well as key legislation.
Cost: £30
covers the fundamental principles and skills required in project management.
Cost: £40
Million Pageviews and Counting...
Greenline Conversations is an excellent business communications training course, delivered through a series of engaging videos. This is some of the best business training for making a positive impact throughout an organisation.
View Greenline Course
ej4 are experts in video based online learning. They provide some of the most fun, engaging training videos to help transform business performance, from front line staff to senior leadership level.
View ej4 Courses
Why Our Website?
Led by e-learning experts Gill Broadhead and David Patterson, we've helped thousands of learners and organisations to find or deliver excellent online training. By giving up to date advice and signposting great companies and resources, our goal is to help our visitors with their career, personal and business skills development.
Expertise
Decades of combined experience and mentioned on the industry 'Movers and Shakers' list 3 years in a row.
Great Choice
Over 400 elearning courses to transform compliance, employability or performance.
Only the Best
We spotlight the best courses, using our e-Learning Content Evaluation Tool.