If you're looking for mental health courses online, these e-learning providers can help you. They have created some of the best mental health awareness training available in the UK and worldwide.
Walkgrove
Improve workplace wellbeing with mental health awareness courses – online training developed by Mind and UK e-learning specialists, Walkgrove Ltd. A range of low-cost, ready to go mental health e-learning courses.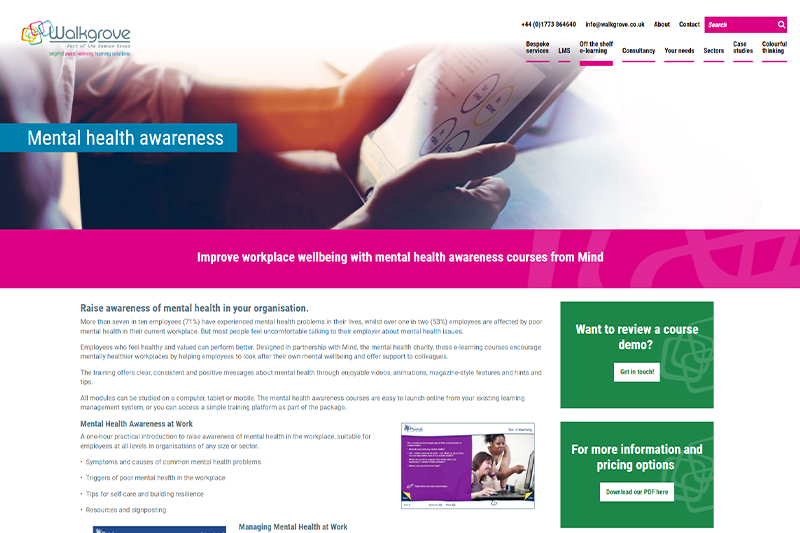 Working with many of the UK's largest organisations since 1994, Walkgrove have won numerous industry awards. They offer a full consultative service across learning lifecycle, from Training Needs Analysis through to Return on Investment and Impact Studies. This helps to ensure that the solutions they develop deliver real value and impact clients' businesses tangibly and positively.
7 Maisies Way
Alfreton
Derbyshire
DE55 2DS
Tel: +44 (0)1773 864640
www.walkgrove.co.uk/mental-health-courses/

Future Learn
A range of free online courses on mental health and psychology. You can explore the realities of living with mental health and improve your wellbeing or those of your employees.
Future Learn offer a diverse selection of courses from leading universities and cultural institutions from around the world. These are delivered one step at a time, and are accessible on mobile, tablet and desktop, so you can fit learning around your life.
www.futurelearn.com/subjects/psychology-and-mental-health-courses

The Association for Psychological Therapies
APT is a UK leader in providing mental health courses of the highest quality. Browse a selection of the APT-Accredited training courses on their website.
The Association for Psychological Therapies (APT) was founded in 1981 by Dr William Davies and Derek Perkins, two clinical psychologists based in Birmingham, England. It is now registered in London, with its head office in Thurnby.
The Association for Psychological Therapies
The Dower House
Thurnby
LE7 9PH
Tel: 0116 241 8331
www.apt.ac/mental-health-courses.html

NCC Home Learning
NCC mental health courses cover a range of knowledge bases, from counselling to bereavement and safeguarding.
NCC Home Learning is an award-winning education provider with over 20 years experience offering distance learning solutions. They take pride in having delivered quality training to over half a million learners worldwide.
NCC Resources Ltd
Warwick House
Riverside Business Park
Benarth
Road
Conwy
LL32 8UB
Tel: 0333 3445 690
www.ncchomelearning.co.uk/general-interest/mental-health/

MHFA England
MHFA England offer online mental health training courses and resources to support your organisation to look after employee wellbeing.
Develop your managers' skills and knowledge to have effective mental health conversations with their teams. Learn about mental health and how to identify, understand and help someone who may be experiencing a mental health issue.
MHFA England are a social enterprise, a company without shareholders. They offer expert guidance and training to support mental health awareness in the workplace and beyond.
MHFA England
21 Prescot Street
London
E1 8BB
Tel: 0203 928 0760
https://mhfaengland.org/

CPD Online College
Study a Mental Health course with next day certification. These courses are written by mental health professionals and you can start immediately.
Tel: 0800 077 3063
cpdonline.co.uk/courses/mental-health/
Alternatively – bespoke e-Learning for Mental Health
Day One Technologies in West Yorkshire worked with 1st4sport and leading UK mental health charity, Mind, to develop a mental health awareness e-learning course for sports coaches.
Day One combine in-depth understanding of learning psychology with the latest e-learning technologies to create training solutions that really work.
Day One Technologies Ltd
Unit 55
Batley Business and Technology Centre
Grange Road
Batley
West Yorkshire
WF17 6ER
Tel: 01924 510524
www.dayonetech.com/case-studies/1st4sport-mind

Whether for your own learning or for business training, the above companies can provide you with mental health e-learning courses to transform your awareness and knowledge in this area.